We need more freedom-fighting men in this space, and we are so glad that strong men like you are here advocating for freedom along with us at Starfish Project. Your presence here is incredibly impactful. As you shop this Valentine's Day, we want to say thank you for shopping with purpose. Your jewelry purchases from Starfish Project help provide survivors of exploitation with safe homes, computer training, and much more as they begin to experience freedom, establish independence and develop careers. And we know your special someone (wife, girlfriend, daughter) will love your thoughtful gift too! You don't have to take our word for it. Read about our happy customer, Bart's experience of gifting Starfish Project jewelry.
---
Hello Starfish Project,
We planned a family end-of-summer trip to Lake Gaston, and I wanted to provide our daughters with a special memento of our trip. I simply googled "lake theme bracelets," and your website popped up.
Once I saw that Starfish Project empowered previously trafficked women, gave them jobs, self-esteem, and launched them into the world they should have always known, I was hooked. I chose three different style bracelets.
We took the boat out on a sunset cruise, where I explained to them the purpose of your mission at Starfish Project. I shared that this bracelet will remind them first, to always know their exits, and secondly, that there are still women in this world who do not have the freedoms we are experiencing at this moment.
They loved the bracelets as much as the beautiful packages in which they arrived, and certainly the fact that their bracelet helped a woman become much freer than she had been thanks to Starfish Project.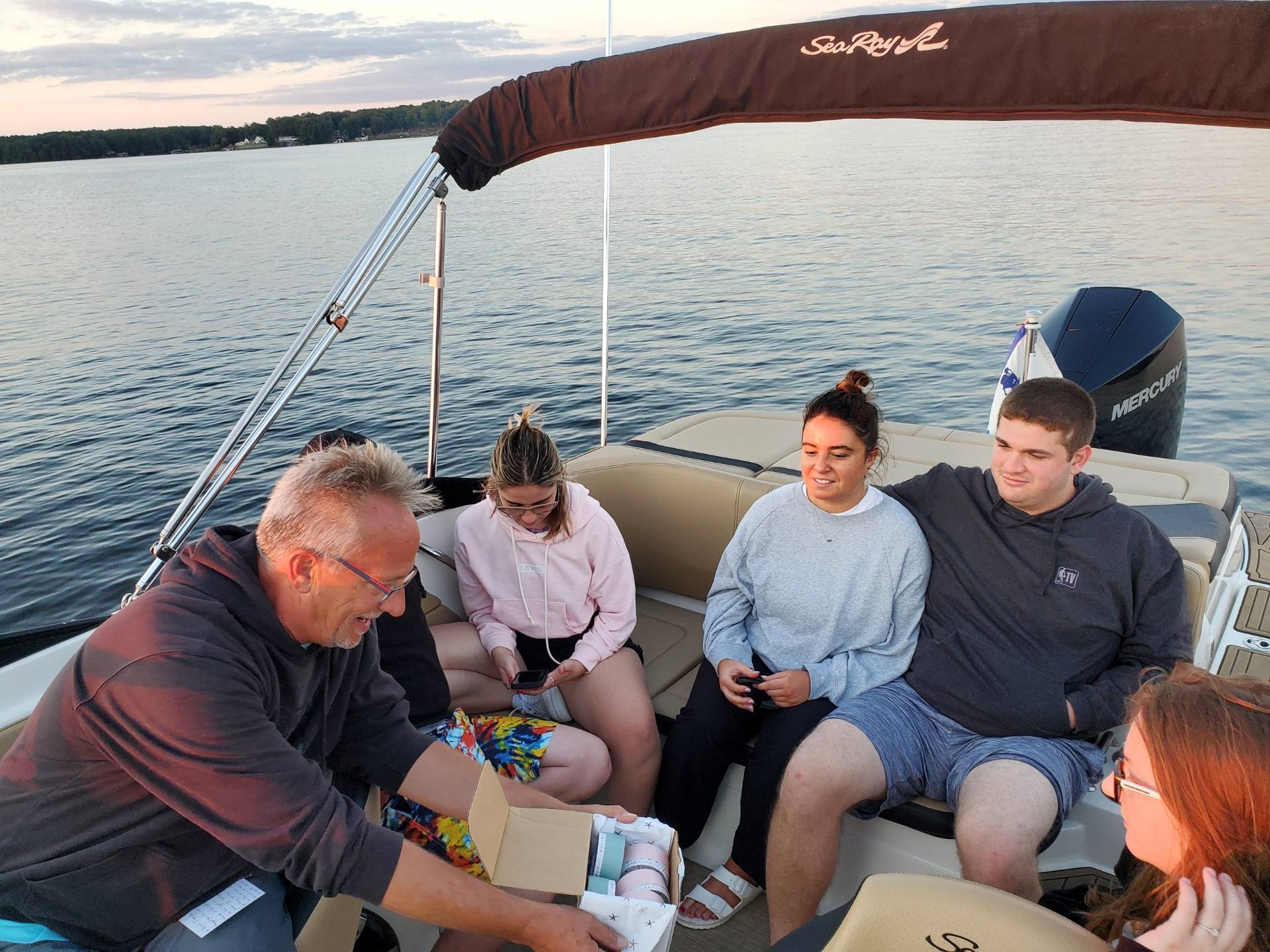 Photography by Cheri Brown
My parents once told me that you can tell if a child loves their gift as they will not put it down. Our girls obviously loved their bracelets, not only shown by the expression on their faces and not being able to take their eyes off their wrists, but all three of them wore their bracelets for the entire duration of our weeklong end-of-summer trip to the lake.
Thank you, Starfish Project, for all the good you do in the world. I look forward to making my Valentine's Day gift purchases shortly. I hope my words and photo excite the same gift-giving generosity in other fathers, husbands, brothers, boyfriends, fiancés, and men with special ladies who are thankful their girls are safe.
Sincerely,
Bart Scesney
---
We are so happy that Bart shared his Starfish Project experience with our team and even more delighted he agreed to share it with you too! Thank you, Bart and all freedom-fighting fellas, for standing strong alongside us here at Starfish Project, and with women everywhere to fight for freedom. Together we are stronger!
---