Mae Lee was trafficked to Greece before she came to work at Starfish Project. Today, she is studying Greek and photography, and she takes product photos for all of our jewelry! Go to starfishproject.com/educateher to help provide Mae Lee with the equipment she needs to further develop her photography skills.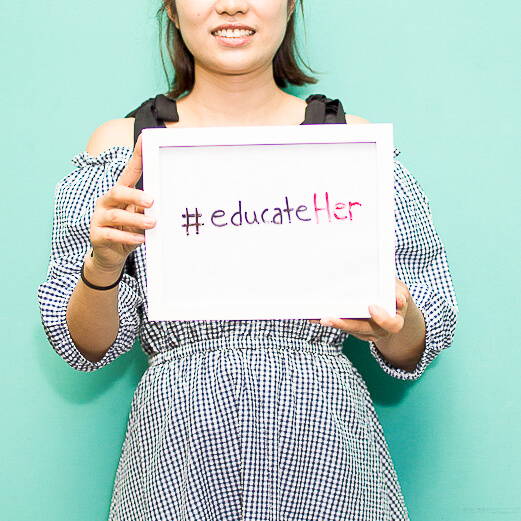 You can read her full Story of Hope below:
When I was 15 years old, my mother needed money, so I was trafficked to Greece. I worked there for six years and had many incredibly painful experiences. I was finally helped to return to my home country, but I had no idea what to do when I arrived. With only a primary school education, it was extremely difficult to find a job.
Starfish Project stepped in and offered me a new beginning. I came to Starfish Project with no confidence in myself, but now, I take pride in my work. At Starfish Project, I have found myself and a sense of purpose. I have a community that is like family to me and have been able to pursue dreams that I didn't even realize I had or was a possibility for me.
One of the places I found community, is in the shelter. I love living at the shelter because I am surrounded by people and never feel lonely. I felt isolated during my time in Greece. Living in a big city can feel very lonely when you are by yourself. However, in the shelter, there is always someone to run errands or go on an adventure with.
Whenever I face conflicts or struggles, people at Starfish Project rally around me and support me any way they can. There are so many compassionate people who work here. I never feel like I am going through hard times alone. I am so grateful for this supportive community.
Although I was skeptical at first, since coming to Starfish Project, I have been able to study many of the things I never got to study in school. I have been using the Greek I learned while overseas and have been studying with an online teacher. Recently, I have started specialized training to become a professional photographer and am learning to take all of the photos for our website.
Now, over three years later, I absolutely LOVE my job. I've studied and learned more in the last three years than ever before. This company is such a good company. I have learned that growth is a personal choice and it is up to each person to take advantage of the opportunities they have been given. I am taking full advantage of every opportunity that Starfish Project has to offer. I have big dreams and I can't wait to actually achieve them.
#educateHer #restorehope #starfishproject #endtrafficking #empowerwomen
---