Sanity Saving Indoor Activities
As a self-proclaimed COVID-19 surviving expert (we have been at this for 58 days), I would love to share a few activities our family has played on repeat in the name of sanity during this time. I can say with complete honesty that if you asked me today, 2 months into social distancing and school closures, I am grateful for this time with my family and the connection it has helped us build! There is good to be found here! Let's discover it.
As the news hit of the spreading virus, you could feel palpable fear all around our city. There were reports of bare shelves at the grocery store and roads being closed in and out of the city. Like most families, for the first few days we simply stayed home, watched the news and for the sake of our children 6 and 2.5 years old continued celebrating the Lunar New Year. And then it happened. The holiday was "extended" and schools were shutdown.
Our routine was completely turned upside down. As an adult that's hard. In our household, as parents it was unimaginable. Our kids are action-packed! They are all boy, in every sense of the phrase. They love to run and jump and most days act like they are being raised by wolves. If I'm being completely honest, my biggest worry as our city began to self-quarantine wasn't the virus itself, it was sanity, for both our kids and my husband and I.
If we did go outside, how would we get a 2-year-old to keep a mask on or stop him from putting his little fingers in his mouth? And so my mission of indoor fun was born! It's been pretty miraculous really. Everyday I wake up with simple ideas like manna from heaven. We've made volcanoes, colored Easter eggs in January and had almost daily dance parties.
Don't get me wrong. Most days the pendulum swings back and forth from peace to anxiety at least 20 times. Still, most days, I am finding peace in the waiting and such gratitude for this intimate time to pour love and fun into our family.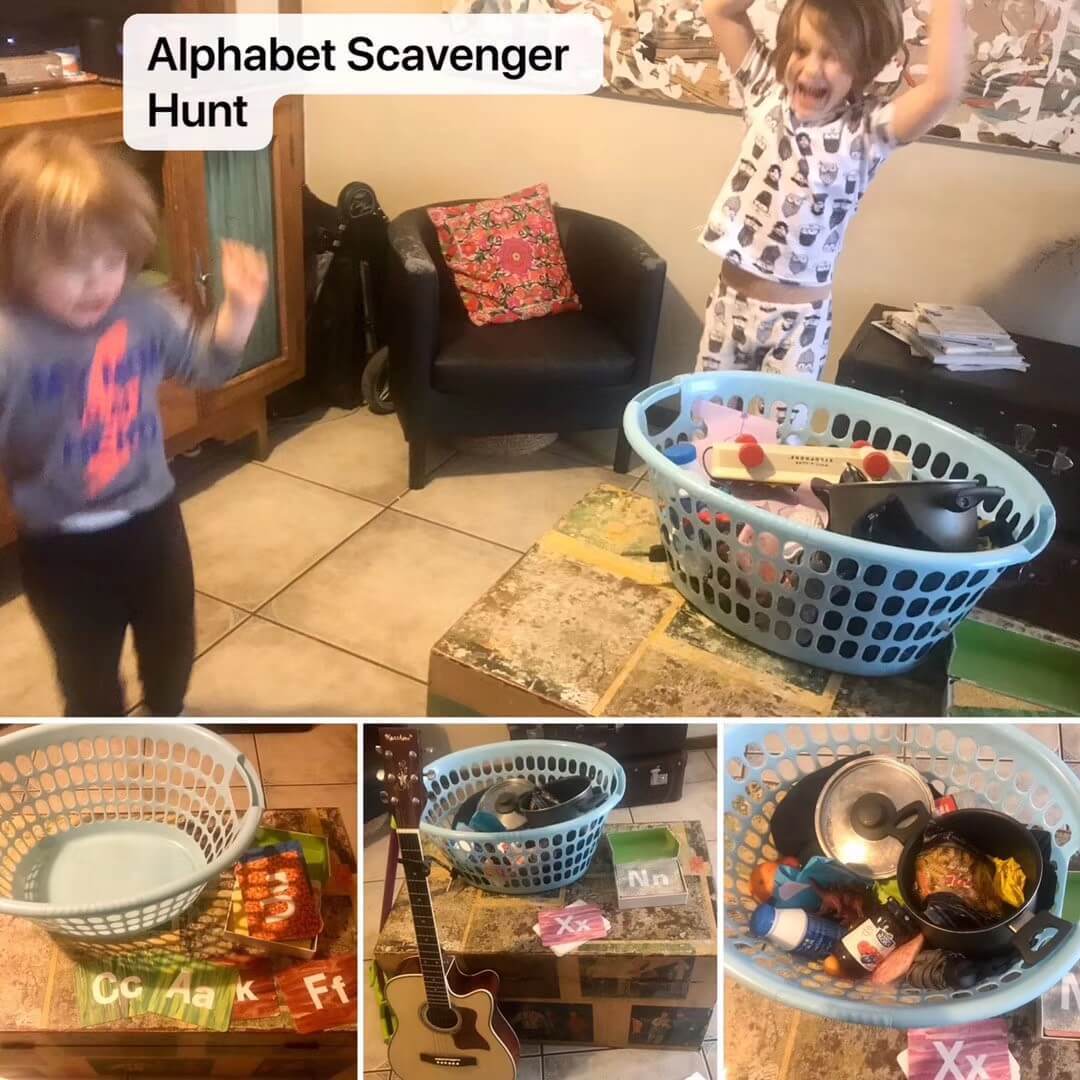 3 Activities to Keep Your Kids Busy and Having Fun During Corona
1. Scavenger hunts have been a go-to for our family during this time. We did a hunt at least every other day. This was one of our favorites:
🆎 Alphabet Scavenger Hunt Supplies: alphabet flash cards (or make your own), a basket (or box), random items in your home, prize optional (inspiring to finish this hour-long task)
🆎 Alphabet Scavenger Hunt:  1. Sing the ABCs 2. Grab one flash card and hunt for an item in the house that begins with that letter. Once found, place it in your basket 3. Repeat for all 26 letters 4. Celebrate your success with a prize! (Ice cream is always a good choice!)
🕰 Extension: Keep everything (other than the refrigerated items) in the basket. Later in the day, (I could tell Big Brother wouldn't be up for this right after completing the first round) pull items from the basket, call out the letter/sound it belongs to and race it back to where it belongs. See how fast you can empty the basket!
🆘 Toddler: Little Brother wasn't into searching for items. He played alone for a bit. As the basket filled up, he loved pulling the items out like he'd just found them and cheering. And of course he enjoyed the prize at the end.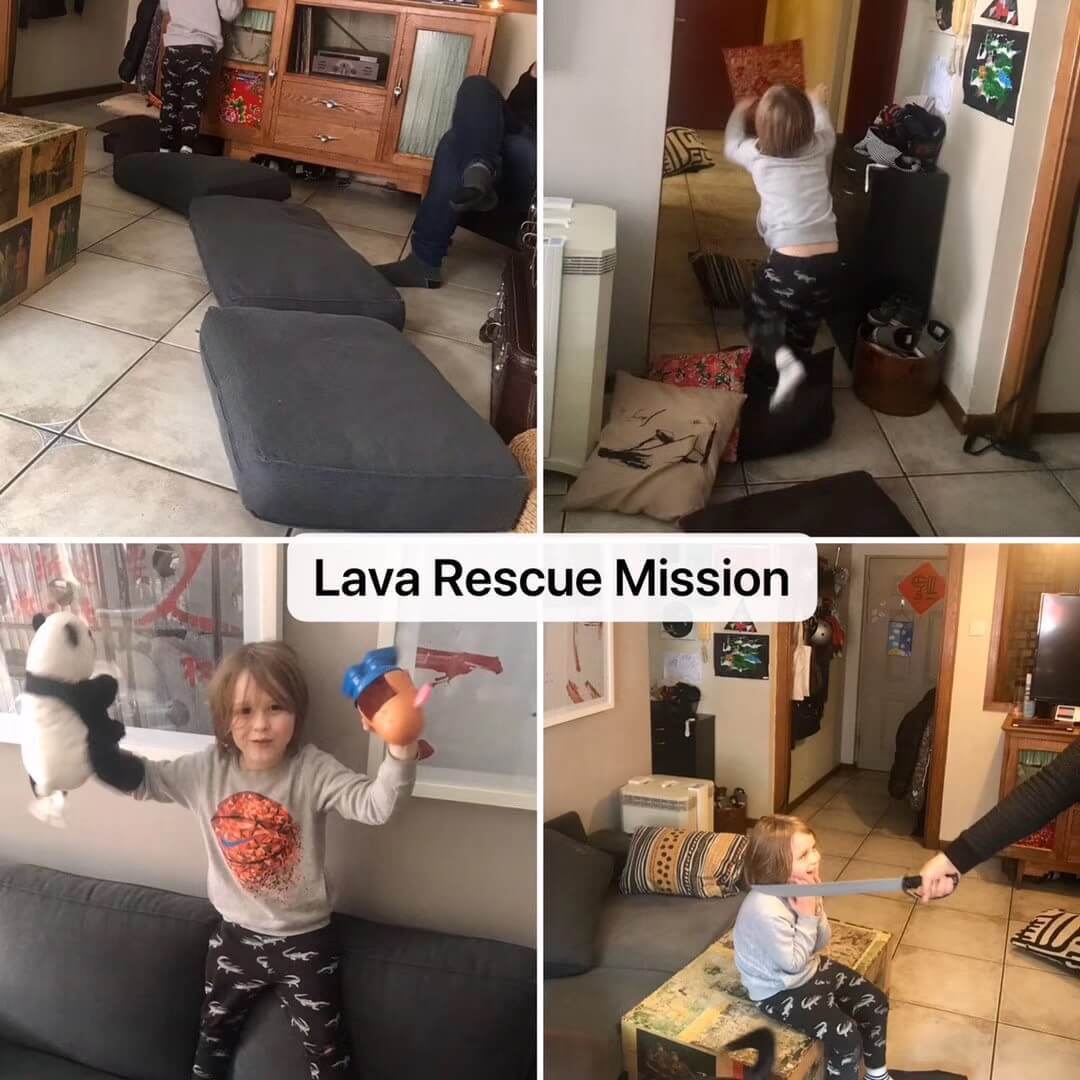 2. The Floor Is Lava has been played on repeat!
🔥 Lava Floor Rescue Mission Supplies: toys to save, pillows (a lot of pillows), a wild imagination, optional: Guns and Roses' "Welcome to the Jungle" as a soundtrack
🔥 Lava Floor Rescue Mission: 1. Optional: watch a video online (there are a ton) of kids playing "The Floor is Lava" to introduce the concept to younger ones 2. Choose the starting place (our sofa) and place 2 toys in another room (kids bedroom) 3. Explain the goal: go from the start to the toys without touching the ground, and save the toys by bringing them back one-by-one to the start. 4. Rules: if you or the toys touch the ground you start over (when my son started over I removed the pillow path he made and had him fully start again.) 5. Repeat with remaining toys
🕰 Extension: 1. A hero's celebration once complete: my husband knighted our hero, he was given a candy reward and a dance party celebration 🎊 2. Give other tasks around the house only using the pillow path you've created (we went to and from the kitchen serving lunch with our lava floor.)
Our 2-year-old didn't fully grasp the idea but had a blast jumping around on the pillows and cheering on his brother. Mom and Dad have special lava shielding socks.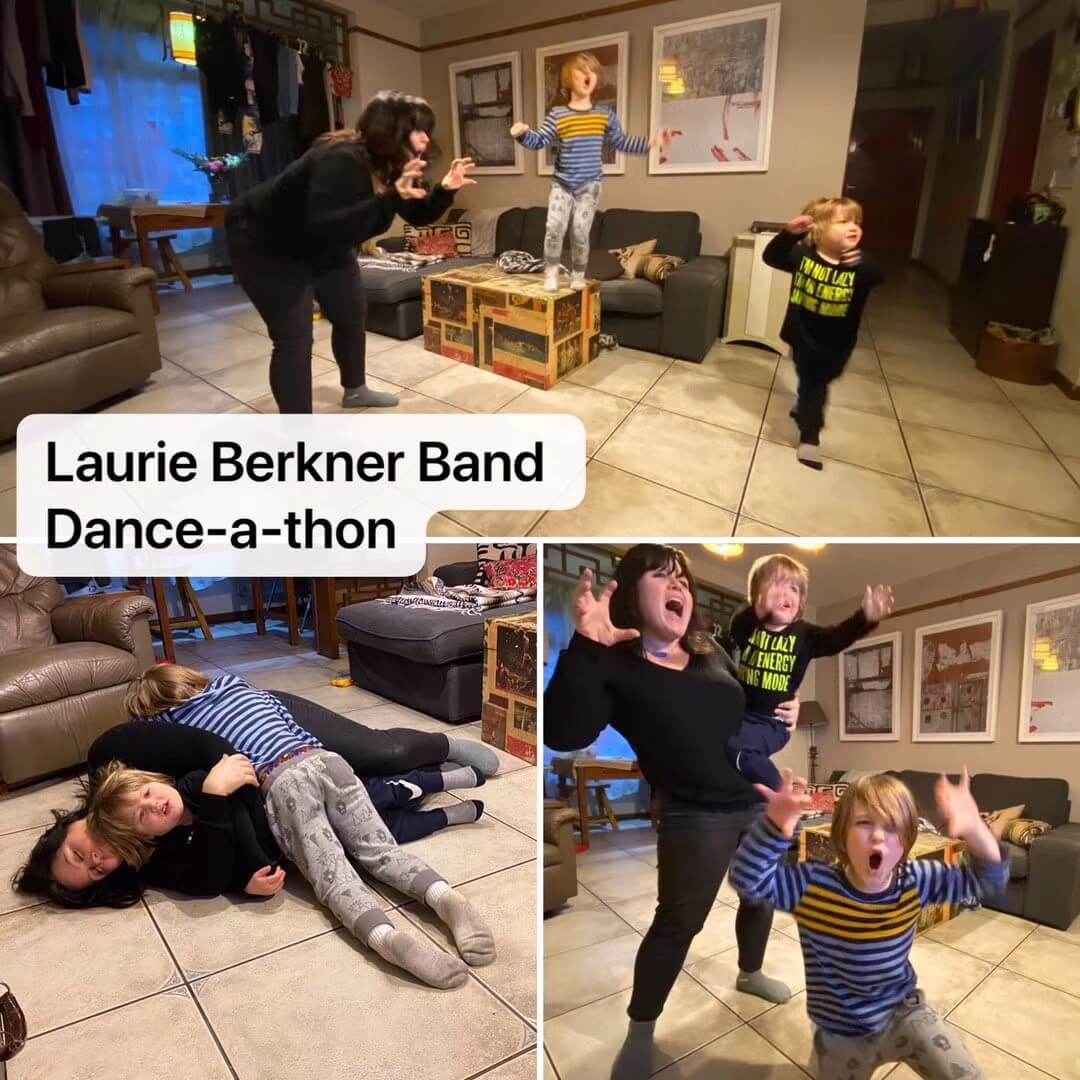 3. Dance Parties have kept our spirits up through out isolation. For my boys 6 and 2.5 years old, these videos have been great! But don't get stuck there. Put on your favorite soundtrack and get everyone dancing!
👯‍♂️💃🏽 The Laurie Berkner Band Fan Club Supplies: a TV (or screen of any sort), a couple Laurie Berkner Band videos and energy to burn! (I've put YouTube links to our favorites below.)
👯‍♂️💃🏽 The Laurie Berkner Band Fan Club: 1. Push play on a video 2. Turn the volume up 3. Follow the motions and dance like crazy WITH the kiddos (that's the key, screens don't typically make for the best connection point but dancing (or swimming, or stomping) around WITH our little people makes for so much fun) 4. Be prepared to hit repeat at least 15 times!
🕰 Extension: 1. Play the audio of one of The Laurie Berkner Band songs and make up your own motions. 2. Make up motions for any of your favorite songs!
Dance the night away!
-Shelby
---