This holiday season, celebrate your incredible impact on Wynne's* life through her story of bravery, resilience, and, ultimately, freedom. Here at Starfish Project, we believe the greatest gift you can give this holiday season (and all year round) is the gift of freedom, and we know you agree. When you choose to shop and gift Starfish Project jewelry, you are giving the gift of freedom! Right there, from your beautiful Christmas tree-lit home, you are giving a life-transforming gift that seems impossible to so many women around the world.
Hi, my name is Wynne. I am the Administrative Assistant at our Starfish Project branch office. Before I joined Starfish Project, my life was a mess. As a young girl, I ran away from home and was tricked by a man into working in a brothel. I was forced to work there for several years, and every penny I made was confiscated by the owner. Things only got worse when I was tricked into taking drugs during that horrible season of my life. It was only after I was arrested and forced into a rehabilitation center that the shame of this dark experience pushed me to find a way to escape from this brothel owner.
Shortly after, I was introduced to Starfish Project by a girl I knew from the brothels who had escaped and was working there. The decision to join Starfish wasn't an easy one, yet once I realized that the company provided a Day Care Program, I was very excited about it, so I chose to join the community that would change my life forever. I am so happy to have found a safe place for my son and me together.
"I am now someone who can receive love and give help and love to others."
I have gained so much during my years at Starfish Project. When I joined, I had very little education, no real job experience, and could not clearly express myself. My leader, who is a survivor herself, offered me a lot of love and support and always walked alongside me as I learned. When I couldn't express myself clearly, everyone on the team was patient with me, giving me the time and space to gain clarity on what I was feeling so I could express myself. There have been many challenges in this job, too and it's through these challenges that I feel I have become a different version of myself. I am now someone who can receive love and give help and love to others.
Yet, what has had the greatest impact on my life is trauma training. Through it, I learned about trauma and realized why certain situations make me feel helpless, panicked, and completely powerless. I am now slowly learning to accept myself and fight against the past. Through confronting my trauma and working toward healing, I am slowly able to let go of the hurt I have suffered. This training has been so impactful that it sparked my interest in psychology, and I began studying. This year I passed my certification to become a Counselor and can now help other women here at Starfish too. I am really grateful for Starfish Project. Through your purchases and support, the project has given me many learning opportunities and allowed me to challenge myself. It also allowed me to gain a lovely group of patient, loving, and empathetic friends. I am now working towards the company's vision to help see every woman valued. I am proud to see myself blooming alongside other women into our own strength and beauty.  
-Wynne
You, through your Starfish Project purchases, have transformed Wynne's life! The freedom that once seemed impossible is hers, and now she is multiplying your impact as she helps even more women begin their journey toward freedom!
Discover Wynne's favorite life-transforming Gift Sets and hear why she loves them!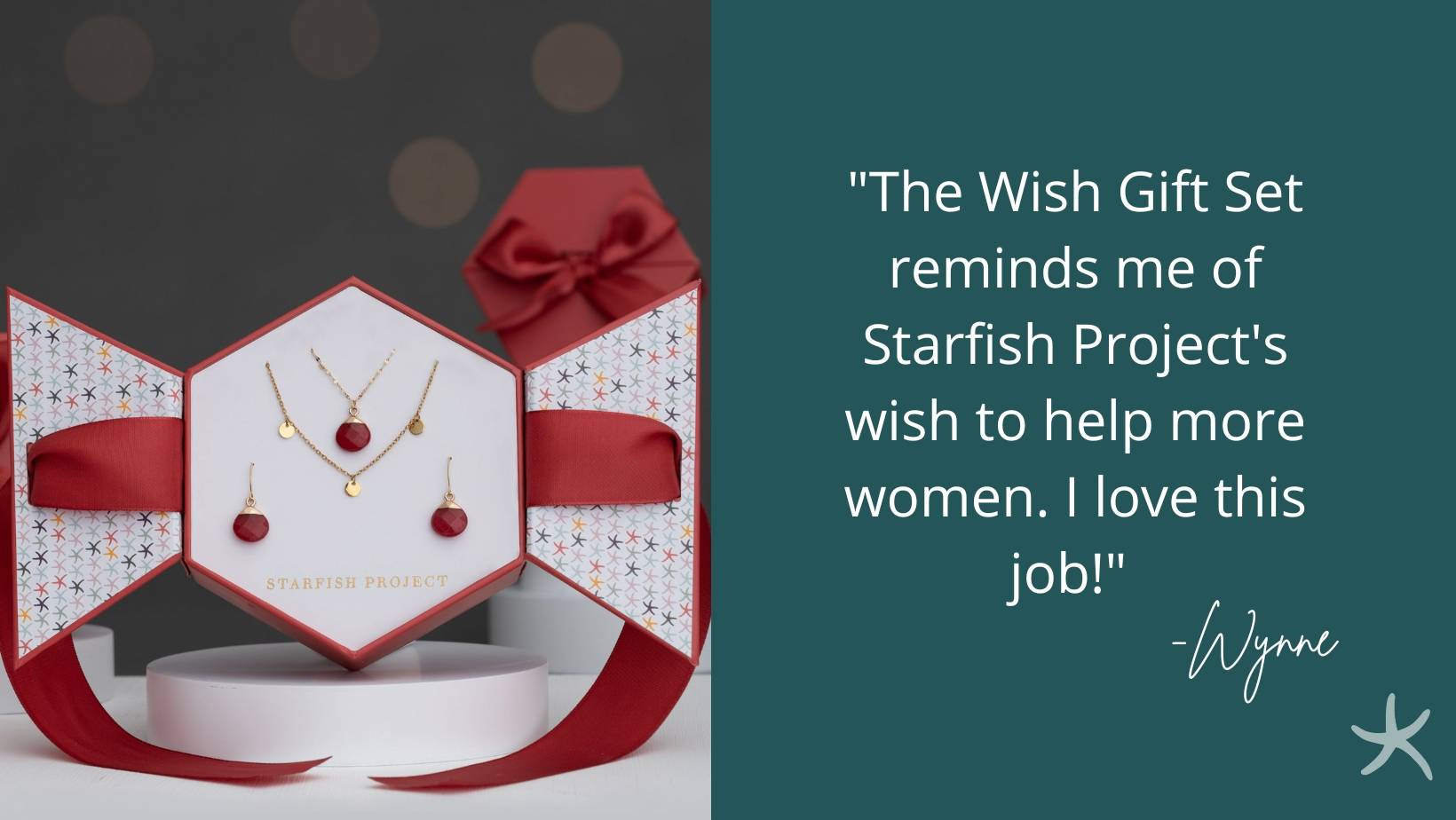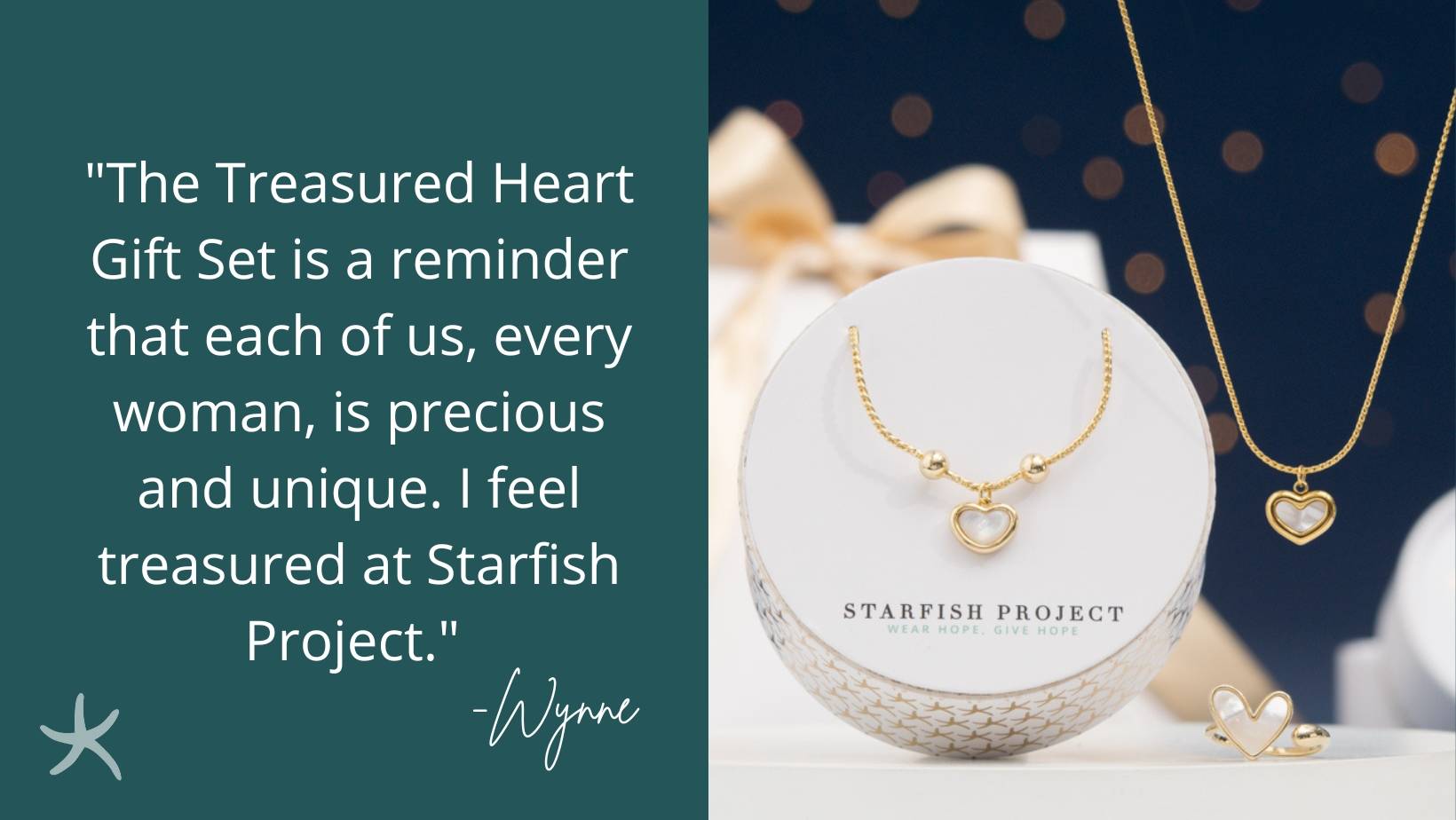 ---